Jewish Learning Opportunities
Available Courses
Mondays | Zohar Circle
Tuesdays | Thinking with Torah
Wednesdays | Jewish Learning Fellowship - Sex, Love, and Relationships
Thursdays | Judaism Through 13 Objects
Fridays | Talmud Chaburah
---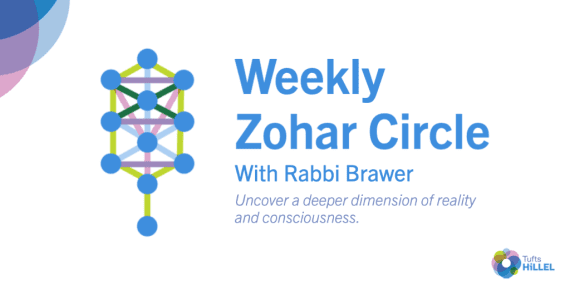 Zohar Circle
Led by Rabbi Naftali Brawer
Mondays 4:30-5:30pm
The Zohar is the foundational text of Jewish mysticism and it has inspired and intrigued readers for centuries. Full of hidden codes and concealed meanings the Zohar takes its readers on a spiritual journey uncovering deeper dimensions of reality and consciousness. Join this weekly session for stimulating readings and deep conversations about the meaning of life.
For more information contact Rabbi Brawer, Naftali.Brawer@tufts.edu
Thinking with Torah
Led by Yonatan Brafman
Tuesdays 1:00-2:00pm
Join this weekly session that will examine the weekly Torah portion and rabbinic commentaries in view of contemporary thought and ethics.
For more information contact Yonatan Brafman, Yonatan.Brafman@tufts.edu
Jewish Learning Fellowship - Sex, Love, and Relationships
Led by Rabbi Jonah
For many of us, sexuality and intimacy are some of the issues that matter most, but around which we receive the least guidance. The Jewish Learning Fellowship (JLF) is a conversational seminar for students looking to deepen their understanding of Judaism on their own terms over a meal.  Over the semester we will talk through Jewish ideas about gender, sexuality, intimacy, and sexual ethics through a broad range of sources in Jewish thought in a way that honors our minds and bodies and respects our position as modern, thoughtful adults. Click here to apply for the fall semester cohort! $200 stipend awarded upon completion of the fellowship.
For more info reach out to Rabbi Jonah at jonah.winer@tufts.edu
Judaism Through 13 Objects
Led by Rabbi Jonah
Thursdays 1:30-2:15pm
This class will offer an opportunity to root your Jewish life, fill in the gaps of your Jewish education, or offer a place for you to ask all those questions about "doing Jewish" you've always wanted to ask. We'll meet once a week to learn about a different aspect of Jewish life and practice, grounded in an exploration of our people's material culture. By looking at the physical things that enable and support Jewish practice we will delve into the big questions about what Judaism is and how it can fit into our lives.
For more info reach out to Rabbi Jonah at jonah.winer@tufts.edu
Talmud Chaburah
Led by Rabbi Naftali Brawer
Fridays 10:00-11:00am
Coffee & Cake served!
Join Rabbi Brawer Friday mornings for Talmud study. This opportunity is for those who have studied Talmud previously and want to develop their Talmud study skills. We will be studying the first chapter of tractate Berachot.
For more information contact Rabbi Brawer, Naftali.Brawer@tufts.edu